Free help: USER GUIDE

| | | |
| --- | --- | --- |
| | | Clients & Profits X Online User Guide |

Up to 20 selected holidays and other special days can be blocked off the company calendar, preventing these dates from being used as start dates or due dates on job schedules. Special non-working days could include dates set aside for full-day company meetings or for any reason no deadlines should be scheduled on certain dates.

These non-work dates apply to job scheduling for all jobs and for all clients. When a job task's are scheduled, Clients & Profits X will check these preferences to for any start date or due date that's blocked off. If a non-work date has been scheduled, the next working date is chosen automatically, which the user is prompted to confirm. Holidays and other non-work days are automatically skipped when a user creates a ballpark schedule or reschedules an existing job.

These non-working days only affect job scheduling. They have no affect on any other part of Clients & Profits, including time keeping (so hours can still be entered on holidays, if needed).

Any date can be enter in the Job Scheduling preferences. No holidays are entered by default. At the end of the year, these dates will be need to updated for the upcoming year -- they are not updated automatically.

To enter the company's holidays and other non-work dates

1 Choose Clients & Profits X > Preferences (Mac) or Setup > Preferences (Windows), then choose Job Scheduling from the list on the left.

The Job scheduling preferences window opens.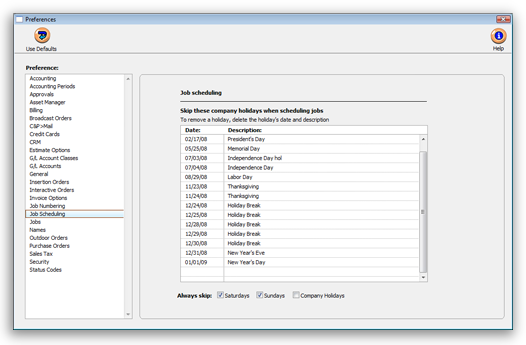 2 Enter dates of the company's holidays, office closures, and other non-work days. To add another date, press Tab, enter a new date and description. You may enter as many dates as you wish.

The option to always skip Saturdays, Sundays, and Company Holidays can also be selected. When selected, these days will be skipped by default on any job schedule.

3 When you are finished, simply close the window and the changes you've made will be saved.
Comments (0)
Sort by: Most Recent |
Oldest