Free help: USER GUIDE

| | | |
| --- | --- | --- |
| |   | Clients & Profits X Online User Guide |

Expense advances are reconciled by adding employee expense reports
Each staff member can add their own expense report, because adding them is easy: enter the expense advance's check number, then enter the expenses. If the expenses are for more than the advance check, then a check will be generated for the staff member. If the advance check was for more than the expenses, then a check is requested from the staff member to reimburse the company.

Once the expense report is posted, the advance check amount moves from prepaid expense to the appropriate expense accounts.

To add an employee expense report

1 Choose Accounting > Expense Reports.

2 Choose Edit > Add Expense Reports.

The My Daily Expense Reports window opens.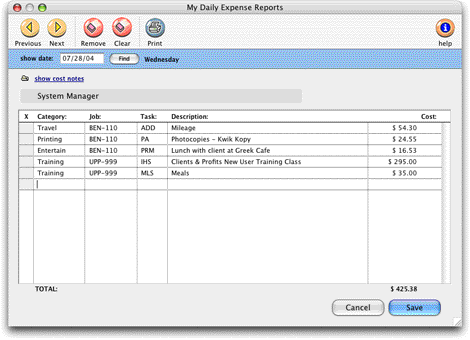 Employee can enter their own expense reports from their own computer. All they need to enter is the check number from their expense advance. Clients & Profits X looks up the check, then prompts them to enter their expenses.
The Add Employee Expense Report window opens, prompting the staff member to enter the check number from the expense advance.

3 Enter the check number from the expense advance.

This step is required to add expense reports. If expense reports were added without referencing the advance check, the check would never be reconciled -- and the company would think the employee still owes it money. Only check numbers from employee expense advances will be accepted. Once the check number has been entered, the staff member can enter their expenses. The amount of the expense advance check appears for reference. This is the amount that was advanced to the employee for their expenses.

4 Enter the first expense's date, job number, and job task.

The date shows when the expense occurred. It appears on job cost reports and the Invoice Detail report (which documents the billing amounts on the job's invoice).

5 Enter a note, cost amount, and gross amount.

The optional note describes the expense on job cost reports. The expense's cost is the amount you've paid for this expense. The gross amount is what the client will eventually be billed. If this expense is unbillable, leave the gross amount as zero.

6 Repeat steps 4-5 for the remaining expenses on the expense report.

You can add dozens of expenses onto a single expense report, as long as they are being reconciled to the same expense advance check.

7 Click Save.

If the employee spent more than their expense advance, Clients & Profits X will automatically add a check to the employee for the difference.


This reimbursement check is posted automatically, so all you have to do is print the check. However, if you spent less than the amount of the expense advance, the employee will need to write a personal check for the difference. Clients & Profits X won't save the expense report until the employee's check number is entered.
Comments (0)
Sort by: Most Recent |
Oldest