Free help: USER GUIDE

| | | |
| --- | --- | --- |
| |   | Clients & Profits X Online User Guide |

General journal entries can be added any time during the month for payroll,
insurance expenses, bank fees, etc.

That is, anything that doesn't involve Accounts Payable, Accounts Receivable, Client Payments, Checkbook, or Employee Expense reports. All kinds of miscellaneous entries can be added as manual journal entries: interest income, bank service charges, transfers between bank accounts, and adjusting entries for beginning balances.

General journal entries will appear on the bank reconciliation if they debit or credit a checking account.
Journal entries are added in batches by transaction. Each transaction can have a virtually unlimited number of debit and credit entries. The entries won't be saved unless their total debits and credits equal. New journal entries are unposted, so they can be proofed and edited before updating the general ledger. Every journal entry can also contain a client number, job number, and vendor number. This information is used for printing audit trails and journals, but has no affect on client balances, job totals, or vendor balances (to affect these balances, entries must be added into A/P, A/R, etc. instead).
General journal entries can be marked as recurring or auto-reversing. By checking the "recurring" option, the same transaction will be automatically repeated in up to 23 periods. Recurring entries save you from rekeying the same depreciation, amortization, etc. entries each month. The "auto reversing" option automatically creates reversing debit and credit entries into the next period (i.e., the debit entry is reversed as a credit entry, and vice versa). Auto-reversing entries keep you from forgetting to back out entries such as month-end accruals.
Clients & Profits won't allow out of balance Journal Entries to be posted. If you have a JE that is out of balance, it can be fixed using the Out of Balance Checker tool in The Auditor. From the General Ledger window, choose Edit > G/L Tools > The Auditor. Select the Out of Balance Checker, then click Start.
To add manual journal entries
1
From the General Ledger window, click the
add
button (or choose Edit > Add Journal Entries).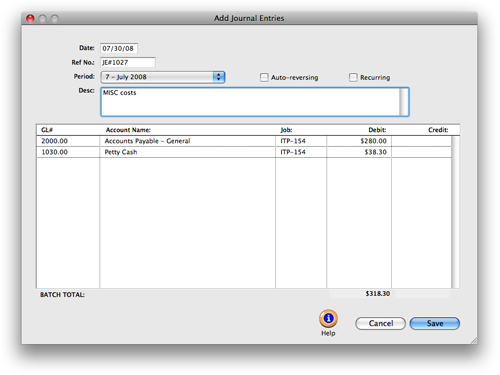 Journal entries are numbered automatically, using a sequential number beginning with JE# (see Accounting Preferences to change the next number). Reference numbers are customizable.
2
Enter the transaction's date, reference number, period, and description. This information is the same for all debits and credits on this journal entry.
3
Enter the first journal entry's G/L account, an optional job number, and a debit or credit amount.
If you're not sure about a G/L number, leave the field blank then press Tab. The Chart of Accounts lookup list opens, displaying your G/L accounts. Double-clicking on an account enters it onto the journal entry.
4
Enter the transaction's remaining debit and credit journal entries.
If you want this transaction to be automatically reversed in the next period, click the Auto-reversing checkbox. Auto reversing entries are posted at the same time as their original journal entries.
5
Click Save.
To add recurring journal entries
1
From the General Ledger window, click the
add
button (or choose Edit > Add Journal Entries).
2
Enter the transaction's debits and credits, just like you're making a regular journal entry.
3
Click the Recurring checkbox, then click Save.
The Schedule Recurring JEs window opens (see illustration), prompting you to select the upcoming periods into which this transaction will be posted. Click Save to save these scheduled entries.
Recurring entries can't be scheduled into locked accounting periods.
Recurring entries aren't posted until the month for which they are scheduled is the current period. They can be seen on the proof list by checking the "include recurring entries" option.

To post manual journal entries G/L journal entries are proofed, posted, and unposted just like Accounts Payable, checks, etc. Posting updates the balances on your financial statements and G/L accounts.

1 Choose File > Post.
Comments (0)
Sort by: Most Recent |
Oldest