Free help: USER GUIDE

| | | |
| --- | --- | --- |
| |   | Clients & Profits X Online User Guide |

Invoices don't have to reference a job number or task.
These billings, called miscellaneous invoices (as opposed to job invoices), let you bill clients for non-job charges such as consulting fees, commissions,and service charges -- as well as credits and adjustments -- without affecting job tickets.

Miscellaneous invoices aren't commonly used, since most of your work revolves around jobs. Adding client invoices updates your income statement, but doesn't affect jobs or tasks. That, after all, is the point of miscellaneous invoices: use them to bill for anything that is not related to jobs.

Since miscellaneous invoices don't include job numbers, they don't contain job tasks. So for the invoice line items you'll simply describe what you're billing.
Miscellaneous invoices can be edited until they are posted. They appear on proof lists, billing reports, and
client statements
just like job billings, but don't show jobs and tasks. Posting makes client invoices permanent, updating the client account and General Ledger. Once an invoice is posted, it can be printed for the client.
Learn more about miscellaneous billing in this Clients & Profits classroom video training session.


Running time: 1:16


To add a miscellaneous billing

1 Choose Edit > Add New Invoice > Miscellaneous Billing.

The Add New Miscellaneous Billing window opens.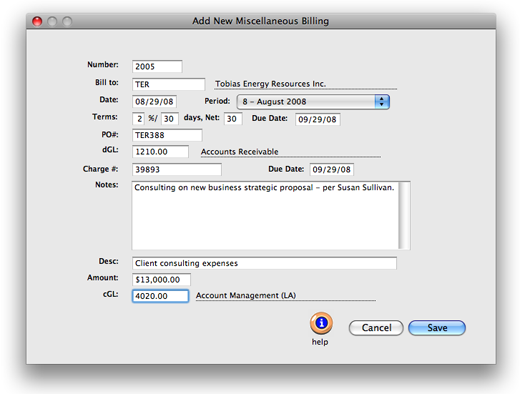 2 Enter the invoice number.

3 Enter the bill-to client number.

4 Enter the invoice date and accounting period.

Aging reports use the invoice date to calculate an unpaid invoice's age (i.e., current, 30-days, 60-days, etc.). The invoice date and the accounting period can be different, for flexibility. This means an invoice can be dated in this month, but the invoice can be posted to next month's financial period.

5 Enter the client's PO number and payment terms.

6 Enter the invoice's debit G/L account.

The debit G/L number is copied from Preferences and indicates which receivable account will be updated when the invoice is posted. Posting creates one journal entry that debits an Accounts Receivable account for the invoice's total amount.

7 Enter the invoice's notes.

The work you're billing can be fully explained in the invoice notes. These notes, which appear near the top of the printed invoice (above the billing amounts), can summarize what's being billed on this invoice.

8 Enter the line item's description.

The description field appears in the body of the invoice. Each invoice line item should have a clear, concise description that explains what you're billing. You can enter anything you need to describe the line item.

The line item's description becomes the credit journal entry's description when the invoice is posted. You'll see this description on audit trails and journals.
9
Enter the line item's amount (if this is a credit, enter a negative amount) then enter the cGL.
Each line item can have a billing amount and credit G/L number, or cGL. The cGL account is entered automatically from preferences, but can be changed.
If you don't know which credit G/L account to use, leave it blank then choose Chart of Accounts from the Lookup List. Your chart of accounts appears, showing your G/L numbers. To select an account, double-click on the account name. The account number will be entered onto the line item automatically.
10
Click Save.
Clicking the Save button saves this invoice's line item and billing amounts.
The invoice is saved, but not posted. You can add additional line items, or change the invoice's billing amounts until the invoice is posted.
Miscellaneous billings don't affect jobs.
They're ideal for one-time billings for small charges like consulting, royalties, expense reimbursements, and fees.
Comments (0)
Sort by: Most Recent |
Oldest