Free help: USER GUIDE

| | | |
| --- | --- | --- |
| |   | Clients & Profits X Online User Guide |

Media billing goals break out total and gross amounts by each media type and fiscal quarter
.
The Media Billing Goals window allows the agency to record media spending goals per media type, per fiscal quarter, and also calculates a total for each media type, quarter, and year-to-date. In media analysis reports, these amounts are measured against actual gross amounts derived from media spending.
The Media Group Performance - Trend Analysis report compares actual media spending for each kind of media (e.g., broadcast TV, radio, etc.) with the media department's billing goals. For these reports to work properly, the shop's billing goals for each media kind must be entered in the Media Goals window. Media billing goals, which are based on gross amounts on
broadcast orders
and
print insertion orders
, can be entered for each quarter of the calendar year.
Learn how to track, print and review important media information in this Clients & Profits classroom video training session.


Running time: 3:57


To enter the shop's media billing goals

1 Choose Media > Media Billing Goals.

The Media Billing Goals window opens, displaying a worksheet with the quarterly billing goals for the eight different kinds of media.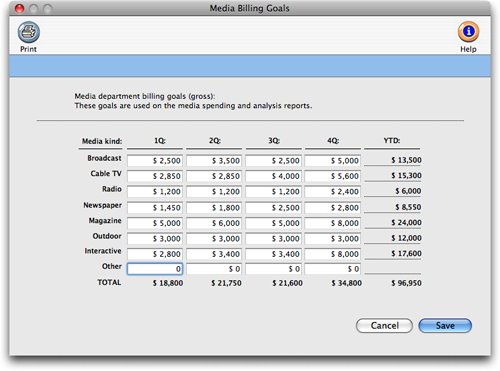 2 Enter the quarterly billing goals for each of the media kinds.

3 Click Save.

These media billing goals can be edited any time. They are used only for media reports, and do not affect job tickets, media plans or estimates, job costing, or the General Ledger.

Learn more:

Snapshots - Media Analysis
Comments (0)
Sort by: Most Recent |
Oldest