Free help: USER GUIDE

| | | |
| --- | --- | --- |
| |   | Clients & Profits X Online User Guide |



Radio, cable, and broadcast television spots ordered on behalf of a client should be tracked with broadcast orders.

Anyone can edit a broadcast order if they have the access privileges to purchase orders. Also, broadcast orders can be edited from any computer running Clients & Profits. Many media buyers can edit orders at the same time. The same general rules for adding, editing, and printing purchase orders apply to insertion orders and broadcast orders.

To edit a broadcast order

1 Click the edit button or choose Edit > Edit Description.

The Edit Broadcast Order window opens.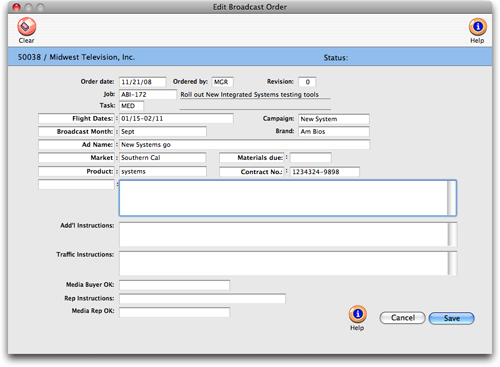 2 Make any changes, then click Save.

Whenever a broadcast order is changed, you'll be prompted to save it as a revision. Each change you make can increment the revision counter to show how many times an order has been revised. It's optional, but appears on the printed broadcast order for easy tracking. Prior revisions aren't saved. The revision number on an order can also be incremented manually.


Learn how to add and edit broadcast orders in this Clients & Profits classroom video training session.


Running time: 5:07


Learn more:
Edit Media Buy
Print Broadcast Order
Comments (0)
Sort by: Most Recent |
Oldest