Free help: USER GUIDE

| | | |
| --- | --- | --- |
| |   | Clients & Profits X Online User Guide |
Insertion orders can be created automatically from print media plans. This option can save hours of data-entry time, since there's nothing to reenter. Instead, the information from the media plan is copied directly to the new insertion orders.

Creating automatic insertion orders is easy: find the print media plan, select the space buy, then click the Make Insertion Orders button. A list of the print media plan's buys will be listed. Marking the check box next to a buy will include it on the insertion order. A separate insertion order will be created for each station. Each buy for a station will appear as a line item on the insertion order.

Automatic insertion orders use the same media preferences as manually added insertion/broadcast orders. That is, they're numbered in the same order and have the same settings (such as the disclaimer).

Once the new insertion order is saved, it can be reviewed, edited, and printed from Insertion Orders. In addition, insertion orders (whether or not they're created automatically) can be prebilled from the Media Orders window.

To create an insertion order from a print media plan

1 Choose Media > Print Media Plans

The Print Media Plans window opens, listing the last-added print media plan.

2 Find the print media plan for which you want to make insertion orders.

3 Click the make order button.

The Make Insertion Order window opens, listing the print media plan's unbilled media buys.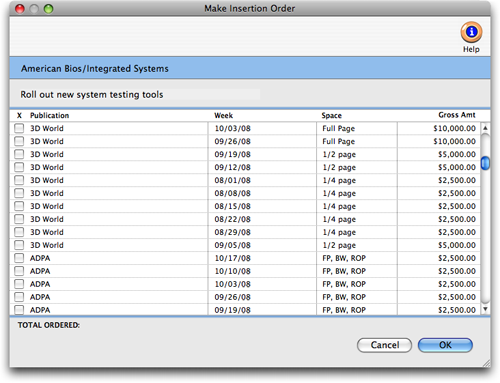 4 Click the checkbox for each media buy you wish to include on this insertion order.

Each space buy will be added as a line item on the insertion order.

5 Click OK.

After a few seconds, the insertion order is saved. Once saved, it can be printed from Media Orders.
Comments (0)
Sort by: Most Recent |
Oldest