Free help: USER GUIDE

| | | |
| --- | --- | --- |
| |   | Clients & Profits X Online User Guide |

Clients are the most essential part of your Clients & Profits X database for a simple reason: A job ticket can't be opened without one.
Clients can be added with as much or as little information as you want. Only the client number and organization name are required to save a new client. Everything else can be added later. The client number will be used to identify the client throughout Clients & Profits X. A short and meaningful three-letter code is most commonly used so that it is easier to enter and to remember, but up to ten letters can be used. The client's organization name will be the one the client sees on printed reports, invoices, and estimates.
Once the client is added and saved, it can be seen and used immediately by other users. The client's account information can be changed anytime. New clients can also be added while you're working elsewhere using the client's List Report.
Learn more about adding and managing client information in this Clients & Profits classroom video training session.


Running time: 4:53


To add a client

1 Choose My > My Clients.
2 Click the add button, or choose Edit > Add New Client.
The Add Client Account window opens.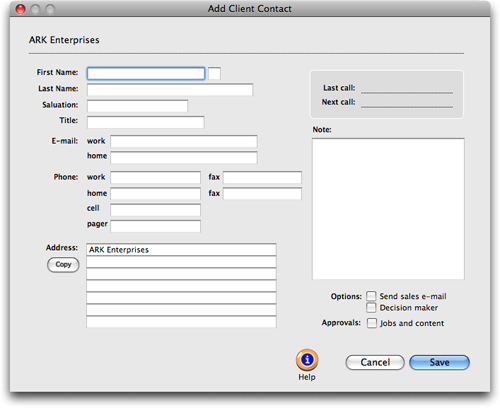 3 Enter the new client's details.
Client Number. It should be a unique number that will be used to identify the client in Clients & Profits X. The customizable number should be no more than ten digits long. Numbers and letters can be used in any combination.
Division. When a client is assigned to a division, it can be combined with other clients belonging to the same division on reports, estimates, invoices, and client statements. The client code entered here is the master client account and the one who's organization name will appear on printed reports, etc.
Organization. This is the client's organization name and address. They will appear on printed estimates and invoices. A separate billing address can be added in the Billing Information window if it differs from the client's mailing address.
In-house Clients. If a client is added for time tracking purposes only, they can be marked as an in-house client. Their time won't appear on Client P&L statements.
Key Contact. This is the person most resposible for approving the client's jobs. It is copied to new job's automatically.
AE/Team. This is the account executive or team assigned to the client. Various job reports can be printed by AE/Team.
Charge Number/Cost Center. Useful for corporate clients, an optional charge number/cost center number can be entered for the client's internal billing purposes. It appears on estimates and invoices.
Profit Center. An optional profit center can be assigned to the client to group this client with others in the same business unit. If used, only tasks with the same profit center assigned can be added to this client's job.
Web Site. For easy reference, the client's web site address can be entered here.
Always Unbillable. Clients that will never be billed for their job costs can be marked as always unbillable. This is useful for pro-bono clients or in-house clients.
Contacts. Additional client contacts can be entered with their work phone number and work e-mail address.
Status. Use the status pull-down menu to choose the client's status. Clients can be selected as an active, inactive, hot lead, prospect, curious, or cold call client. Inactive clients don't appear on the Client Lookup List and can't be used when adding new job tickets. The client window, Client Lookup List, and client labels can all be printed for one client status or all.
Account Notes. Use this field to enter any important information about the client, such as billing instructions or preferences.
4 Click Save.



Learn more:
Clients
Client Access Privileges Client Statistics

Comments (0)
Sort by: Most Recent |
Oldest