Free help: USER GUIDE

| | | |
| --- | --- | --- |
| |   | Clients & Profits X Online User Guide |

The Client Budget window shows planned monthly billings for a client, then graphs the actual billings against the budgeted billings for comparison.

The Client Budget helps you to plan for cash flow and, if the client sets the budget, to work within the client's financial limits. Clients & Profits X calculates the total annual budgeted billings, then subtracts the actual billed amounts so you'll always know where you stand with the client.

When A/R invoices are added for the client, Clients & Profits reduces the client's annual budget by the billed amount. To see a month-by-month comparison of your billed amounts vs. your budgeted amounts, click the graph toolbar button.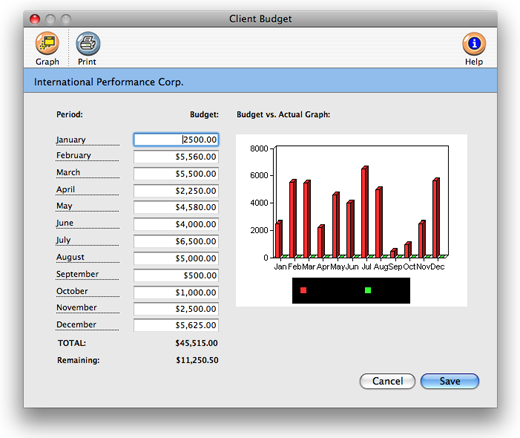 To see the client's budgets

1 From the Client window find a client you wish to use.

2 From the view>point drop-down menu, choose Client Budget.

3 Enter the monthly budget amounts.

4 Click Save.

To view a client's budget recap

The Client Budget Recap shows billings for the current fiscal year, You'll see the year's invoices sub-totaled by period, compared with the monthly budget you've entered for the client.

1 From the Client window find a client you wish to use.

2 Choose View Budget Recap from the view>point pop-up menu.

This report is only available if you've entered budgets for the client; if not, you'll see a simple invoice list instead.


Monthly budgets Client budgets can be entered for each period. Clicking on the graph button displays a colorful bar graph. To print the graph and budget numbers simply click on the printer button
Comments (0)
Sort by: Most Recent |
Oldest