Free help: USER GUIDE

| | | |
| --- | --- | --- |
| |   | Clients & Profits X Online User Guide |


The
Creative Dashboard combines a staff member's daily time card, job hot sheet, and Work To Do into a single window.


Inspired by the popular Clients & Profits ASAP (a web-based studio manager) home page, the Creative Dashboard lets creatives, production staff, and free-lancers see all of their important day-to-day information at one time.

To see your Creative Dashboard

1 Choose My > My Creative Dashboard

The Creative Dashboard window will open: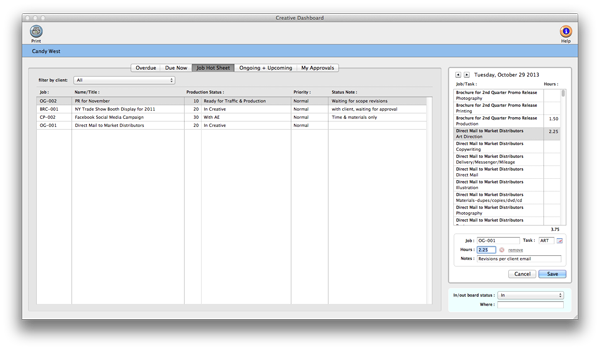 The Dashboard lists the staff member's time for the day and even displays how many hours they still have to account for (which is an optional setting in the staff availability window). The job hot sheet list shows every job on which the staff member is assigned (either as the AE or as one of the traffic assignments) from the traffic system. And the deadlines section shows all of the staff member's unfinished tasks, both due today and overdue, from the Work To Do window.

Double-clicking on a time entry will open the Time Card window, allowing you to change the hours, job, task, or cost notes.

Double-clicking on a job in the hot sheet will open the Job Ticket window and display the selected job and its tasks.

Double-clicking on a job task in the deadlines list will also open the Job Ticket window.

To see the time card and task deadlines for a different day

1 Click on the previous day or next day buttons, or

2 Click on any day in the calendar.

To set the Dashboard to open automatically at startup

Only staff member with C&P X admin access can change a user's account settings, including setting their startup window.

1 Choose Setup > Users, Access & Passwords.

2 Find the staff member's C&P user account then click on it once to select it.

3 Click on the at startup, open this window drop-down menu then select the Creative Dashboard.

4 Click Save of close the Users, Access & Passwords window.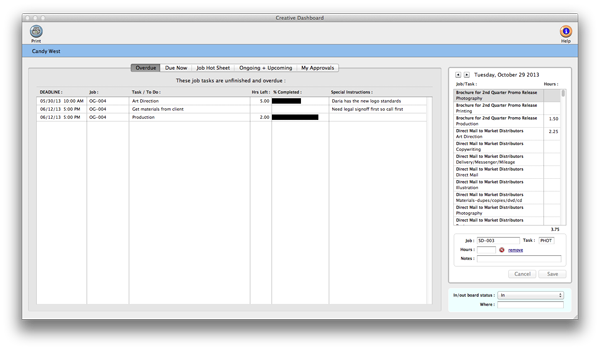 The Dashboard will now open automatically whenever the staff member starts Clients & Profits X or when he or she closes a window.


Comments (0)
Sort by: Most Recent |
Oldest