Free help: USER GUIDE

| | | |
| --- | --- | --- |
| |   | Clients & Profits X Online User Guide |

Custom reports let you see and print information that isn't available from standard Clients & Profits X reports
This report writer lets you design lists showing data from any part of your database, such as clients, jobs, tasks, costs, and the general ledger.

To use custom reports, choose My > Custom Reports. The Reports menu will appear to the right of the Snapshots menu.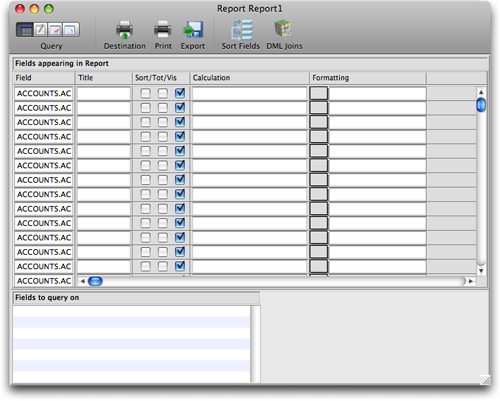 To remove the Reports menu, choose My > Custom Reports again.


If the Custom Report menu command is disabled, it means that you do not have access to the custom report writer. WARNING: Users with access to custom reports can see and print information from any part of Clients & Profits X, including staff files, user access privileges, clients, and financials. Do not give a user access to custom reports unless he or she can be trusted to keep the information confidential.
You've got complete control over what appears in your custom reports, given the limits of its abilities. The custom report writer is designed to supplement the reports already included in Clients & Profits X, but not replace them. The report writer is not like PageMaker or Quark, where you have unlimited control over the look of your documents. Instead, it is designed to make getting lists quick and somewhat automatic -- without being a computer genius.
Custom report documents are portable, which means they are not literally a part of the Clients & Profits X program. They aren't replaced by software updates, either. Each Clients & Profits X user can make his or her own custom reports. These reports can be saved on an individual's computer or stored on the network for the agency's use. Custom reports can be copied and given away to other users.
Keep in mind that you are programming when you make custom reports.
It takes some knowledge of the database's structure (i.e., its files, fields, and connections) to effectively make a fancy custom report. You'll find some simpler reports much easier to print than others with many fields, complicated sorting, and involved queries. But once you've mastered the basics of designing custom reports you'll find it a very powerful, flexible way to see data your way.
Files and fields
Everything you enter into Clients & Profits X is saved into a file. There is a separate file for each kind of data you use, such as clients, jobs, job tasks, the chart of accounts, etc. These data files contain fields that hold specific information, like job number, job name, start date, and much more.
Files have file names that represent what they contain (e.g., JOBS, CLIENTS, TASK_TABLE, JE, etc.). Each field has a field name, but these are more cryptic. Field names generally begin with the letter of the file to which they belong. For example: fields from the JOBS file, like job name, begin with the letter "J" (e.g., J_NAME). When you're adding fields to custom reports, you'll see a short description that explains what the field does.
Some files are electronically connected to another (such as jobs and job tasks, clients and jobs, checks and check line items, etc.). These connections affect where information is stored in your database. You'll need to work with these files and their connections when making custom reports.
Sample Reports
The Clients & Profits X CD contains a collection of typical custom reports. You'll also find samples here. These reports can be used as is, or as a basis for a more complex report. You can use these sample reports to see how records are selected, sorted, and displayed on custom reports. By experimenting with these sample reports, you'll get a better idea about how they work.

Click here for answers to frequently-asked questions about custom reports.


Learn more:

Custom report basics
Making custom reports
Working with data files
The C&P file structure
Modifying custom reports
Selected records with queries
Exporting data with custom reports
Comments (0)
Sort by: Most Recent |
Oldest