Free help: USER GUIDE

| | | |
| --- | --- | --- |
| |   | Clients & Profits X Online User Guide |

Estimates are not "created" separately from the job ticket. Instead, estimates are an integral part of the job and its tasks
Estimates are based on the tasks you've added to a job; in fact, tasks are the basis of the estimate. So the details you enter for a task -- the task name, group, sort -- is what the client sees on the printed estimate. This is very important: Jobs are estimated by job task only. Unless a job ticket has tasks, you can't edit its estimate.

A job ticket has only one estimate, but that estimate is flexible. Since a job can have many tasks, you've got the ability to make very detailed estimates for your clients. An estimate can be revised any number of times as needed (estimate revisions are numbered automatically, and appear at the top of the printed estimate). Revisions are retained, so previous estimates can be reprinted.

Estimates feature three different customizable estimate amounts. All three columns can be used when estimating large jobs with either phases or differently priced options. Or a single column can be used for less complex jobs.
The names of the three estimate amounts are customizable. They can be used to handle jobs with multiple print quantities (e.g., 1M, 2M, 5M). Or they can be used to show revisions (e.g., Original, Revised, Final). Or, they can offer a client a choice of qualities (e.g., 1-color, 2-color, 4-color). For flexibility, any one of the three amounts can be shown on the printed estimate. Or, you can show all three amounts on the same page--giving your client an easy way to choose which estimate to authorize. In addition, all three amounts can be combined together to show a total estimate.
An estimate's column headings can be included as part of the job type/spec sheet. When a new job is opened with this spec sheet, the column headings are copied automatically. (The estimate's column headings can be fine-tuned while you're editing the estimate amounts, which only affects the job being edited). The Job Estimate web page displays the budget and estimate amounts for each job task. You can enter estimate amounts for any task, then select the job's final estimate from a pop-up menu at the bottom of the page.
To enter a job's estimate
1
Click the
Estimate
link from the Job Ticket web page.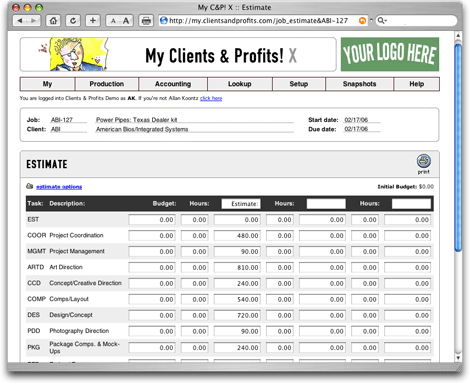 2
Enter your estimate amounts.
3
Click Save.
Unlike the estimate window in Clients & Profits X, the estimate web page has some limitations: new job tasks can't be added; new revisions can't be created; prior revisions can't be recalled; estimate amounts can't be copied from one column to another; change the estimate's column headings; and, the task's estimate worksheet is not available. Also, a printable preview of the estimate can be viewed by clicking on the
Print
button.
Comments (0)
Sort by: Most Recent |
Oldest