Free help: USER GUIDE

| | | |
| --- | --- | --- |
| |   | Clients & Profits X Online User Guide |

My Clients & Profits X! is a web server for your Clients & Profits X database that allows anyone to manage jobs, track time and expenses, and more from Internet Explorer, Safari, Firefox, or any web browser
It lets account executives, and out-of-office staff members track jobs, traffic, time, expenses, and more from home, a client's conference room, a trade show -- from any kind of computer. The My C&P! X web server serves customizable web pages using real-time data from the Clients & Profits X database.

How My C&P! X works

The My C&P! X web server acts as a gateway between your shop's Clients & Profits database and any number of Firefox, Safari, or Internet Explorer users. A user opens their browser, then logs onto the My C&P! X server by entering a specified web address (such as "http://my.clientsandprofits.com"), their user ID, and their password. My C&P! X verifies the user's ID and password, then displays a personalized "home" page. This home page contains links to the various client, job, and costing features available to them, as well as links to company and industry news, a company calendar, and an optional online company handbook.

For more information about My Clients & Profits X!, click here. My Clients &Profits! can be available 24 hours a day, seven days a week (except for nightly backups). It runs unattended on a separate computer that is connected to your Clients & Profits X database. There is no preset limit on the number of concurrent My C&P! X users, so many web users can add jobs, time, and expenses simultaneously.

To connect to My Clients & Profits X!

1 Start your web browser then open a new page.

2 Enter the My C&P! X web server's IP address or name, then press Enter.

The My C&P! X web server is identified by its IP address (e.g., 192.168.100.10) or by a URL (e.g., my.ad-agency.com) depending on how your web administrator configured it. An IP address would be entered like "http://192.168.100.10" while a URL would be entered as "http://my.ad-agency.com".

3 Enter your web ID and password, then click Go.

If you're successfully connected you'll see your custom My Clients & Profits X! home page.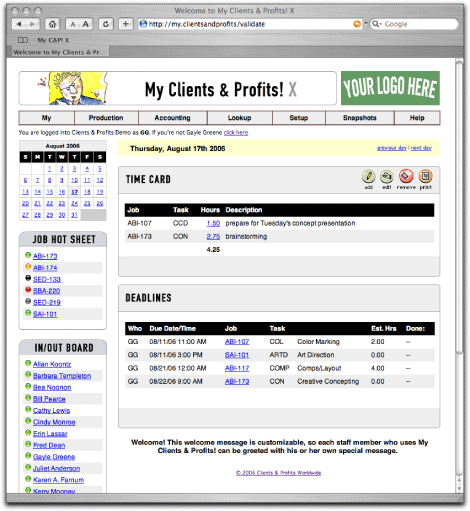 Each My C&P! web user has their own personalized home page, whether they are a staff member, freelancer, client, or vendor.

Use the menus at the top to navigate through My Clients & Profits! X, just as you would in the regular Clients & Profits application.
The company calendar page is linked to the Calendar window in Clients & Profits, listing company events, meetings, and important dates.
The job hot sheet list shows every job on which the staff member is assigned (either as the AE or as one of the traffic assignments from the traffic system.
The In / Out Board shows the status of all staff members. You can change your status by clicking on the User Name link.

Everyone can track their daily hours using their time card. It keeps a daily record of the jobs and tasks on which you work.

The deadlines section shows all of the staff member's unfinished tasks, both due today and overdue, from the Work To Do window.

A special "welcome" message greets each My C&P! user on their home page. This greeting is edited in the user's Access & Privileges window by the web server administrator.


Comments (0)
Sort by: Most Recent |
Oldest