Free help: USER GUIDE

| | | |
| --- | --- | --- |
| |   | Clients & Profits X Online User Guide |

One of the best features in Clients & Profits X is the innovative use of internet-based electronic mail

It works with industry-standard SMTP-based mail servers to automatically send e-mail from Clients & Profits X to staff members. C&P e-mail is sent automatically (such as when a job is opened or its status codes changes) or based on scheduled entries added by users.

Two things make C&P e-mail work: a SMTP server and e-mail addresses for each staff member. To start sending automatic e-mail, you'll first need to enter the name of your SMTP server into Clients & Profits X. Check with your system administrator for the correct SMTP server address for your mail server. Examples of SMTP server addresses might be "smtp.domain.com", "smtp.mail.domain.com", "mail.domain.com", or "192.168.100.1"

Your mail server must be a standard SMTP-based mail server, and not a proprietary server like ccMail, QuickMail, etc. (unless you're using a newer version that speaks SMTP). The mail server must be available full-time because Clients & Profits sends mail throughout the day.

Every staffer must have an e-mail address (e.g., john@agency.com). For security reasons, C&P e-mail is generally sent only to staff members and not to people outside the shop. This prevents confidential information from being to sent to clients, vendors, and possibly competitors. However, "cc's" (i.e., carbon copies) and "bcc's" (i.e., blind carbon copies) have no such limitation. This means users who manually send e-mail from Clients & Profits X can potentially send it to anyone. All email sent from C&P are sent with a "normal" priority.


Updating e-mail addresses The Update Departments window lets you easily update the department and e-mail address settings for all staff members at one time.
E-mail that is sent from the Help E-mail window to the C&P Helpdesk is considered to be confidential and private. However, e-mail send to the C&P User Group or the C&P Wish List is considered public and can be read by anyone subscribing to those mailing lists.

The Clients & Profits X e-mail system is based on a built-in calendar. Stored mail is automatically checked each morning when the first user opens the database. Any pending mail is then sent. E-mail is automatically sent from these areas:

TimeCop
Staff members who haven't accounted for enough hours (i.e., actual vs. planned) on the previous day's time card/time sheet get a user-defined reminder via e-mail. A copy is sent to their department manger.

Quick Check
The system manager is notified via e-mail if daily Quick Check finds a problem with the database.

Media Calendar
Scheduled entries from the media calendar can remind media department staffers of space closing dates, material due dates, dates of special promotions, and meeting dates.

Cash Flash
A daily "cash flash" of the shop's current cash, A/R, and A/P balances can be e-mailed to agency management. In addition, e-mail "ticklers" can be scheduled to remind the accounting staff about unpaid invoices, tax deposits, appointments, and other follow-up items.

Client Diary
When a user adds a diary entry, a copy can be e-mailed to selected staff members. Entries can be scheduled to be sent in the future to automate account follow-up.

Job Tickets
E-mail can be automatically sent to accounting, production, or management when a new job is opened, its status code is changed, or the job is closed. Production people are notified of impending task deadlines several days ahead of time via e-mail. A copy of a job diary entry can e-mailed when it is added. E-mail is also sent whenever a new change order is saved.

To start C&P e-mail:

1 Choose Setup > Preferences > C&P E-mail.

The C&P>Mail Preferences window opens.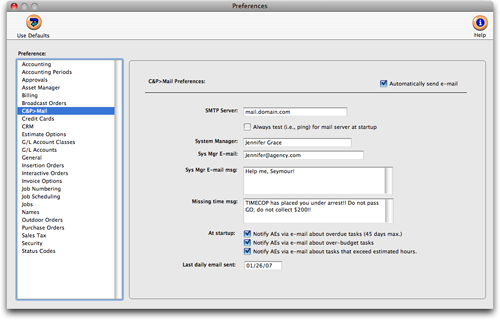 2 Click the Automatically send e-mail checkbox, then simply close the window and your changes will be saved automatically.

The mail server is checked every time someone starts Clients & Profits X. If for some reason the mail server doesn't respond, C&P mail is disabled. It will need to be enabled with these steps once the mail server is available.

Selecting any of the startup options will send notification emails to Account Executives and staffers when Clients & Profits is opened each morning. The program can notify staffers when tasks they're responsible for are overdue. After six weeks, the overdue task is skipped. If a cost is added to a job that makes a task exceed its budget, an alert can be sent to the AE. It can also notify AEs when a staffer adds time to a job that exceeds the jobs estimated hours.
To stop C&P e-mail:
1
Choose Setup > Preferences > C&P E-mail.
2
Uncheck the Automatically send e-mail checkbox, then simply close the window and your changes will be saved automatically.
Comments (0)
Sort by: Most Recent |
Oldest