Free help: USER GUIDE

| | | |
| --- | --- | --- |
| | | Clients & Profits X Online User Guide |



The Preferences window for the client relationship manager ("CRM") lets you customize the names and icons for the six different types of client relationships.

By assigning names and icons to the client relationships, you will be able to use language that is most meaningful to your agency. Once you have the client types set up, you can assign a type to each client for faster searches when scrolling through clients. With clients organized by type, you can make quick work of follow-ups to help build better relationships.

The names of the types of leads you use can be customized in the CRM Preferences window. Lead types are used by the Sales>Maker to target sales efforts at different types of sales prospects. Prospective client accounts can be classified by status, letting account executive use Clients & Profits X for sales and lead management.

In the Client Accounts window, the status pop-up menu is used to determine whether the client is active or a sales lead. Active clients are ones who currently have open jobs. Inactive clients are those who were formerly active clients, but who no longer work with you. There are four different kinds of leads: hot leads, regular prospects, curious leads, and cold call leads. Account executives can use the different lead types, which are optional, to organize prospective clients based on their likelihood to become paying clients. The Sales>Maker can target sales materials for the different types of leads. The names of the lead types are user-defined in Preferences. Since Clients & Profits X Classic doesn't include the Sales>Maker, it only handles active and inactive clients.

The standard, or default, status names are: inactive, active, hot lead, prospect, curious, and cold call.
Anyone with access privileges to preferences can change the system's CRM settings.

In addition, a small optional graphic can be included for each client status. The graphic appears in the client contacts lookup list.

Click the Use defaults link to replace any customized client/lead status names to the standard names.

To change the names of your of clients and lead statuses

1 Choose Clients & Profits X > Preferences (Mac) or Setup > Preferences (Windows), then select CRM from the column on the left.

The Client Relationship Manager preferences window opens.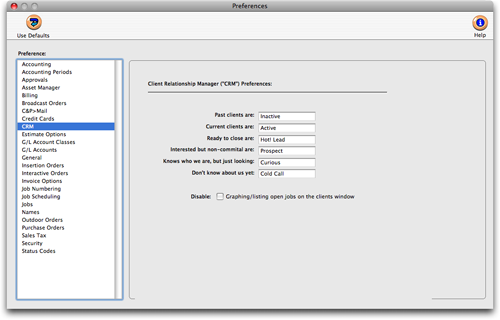 2 Make your changes.

3 When you are finished, close the preferences window and your changes will be saved automatically.

The changes made here take effect throughout the shop immediately.


Classic Note:

Not all client relationship names can be customized using Clients & Profits Classic. Only the top two names (active and inactive clients) will be editable.
Comments (0)
Sort by: Most Recent |
Oldest