Free help: USER GUIDE

| | | |
| --- | --- | --- |
| |   | Clients & Profits X Online User Guide |

The Change Priority window lets you update the selected jobs' rush status
Use this window when you need to change the rush status for a group of jobs with the same priority. It's the quickest way to update many jobs at once, because you don't have to change each job individually. Simply select the jobs that will get the new priority, select the priority, then click OK. The jobs you selected will instantly appear with the new priority on job lists.

To change the priority for a group of jobs

1 Choose Production > Production Planner.

2 Select the jobs you wish to change then click the change Priority button.

The Change Job Priority window opens, prompting you to choose a new rush status.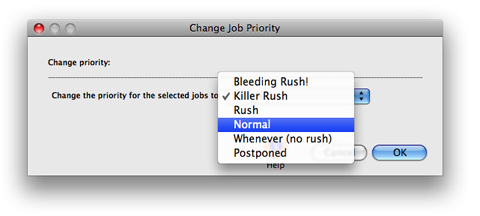 3 Choose the new priority from the pop-up menu.

4 Click OK.

The jobs' priority is updated immediately.
Comments (0)
Sort by: Most Recent |
Oldest