Free help: USER GUIDE

| | | |
| --- | --- | --- |
| |   | Clients & Profits X Online User Guide |

Existing jobs can be cloned into new jobs.
Cloning makes an exact duplicate of an old job, including its estimates but not due dates, status, or cost and billing amounts. Cloned jobs get the next automatic job number.

To clone a job

1 From the Job Ticket window, find the job you wish to clone then click the clone button, (or choose Edit > Clone).

The Clone Job window opens, including all of the details from the job you've just cloned.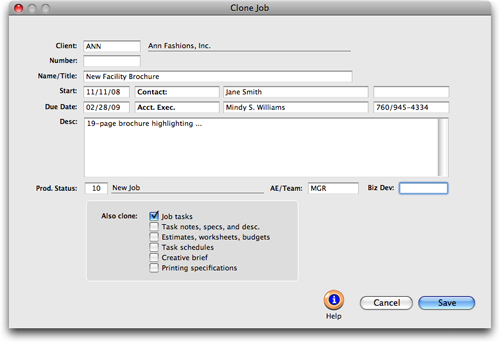 2 Enter the client, client number, name/title, etc.

3 Click Save.


Learn how to clone old job tickets to make new jobs in this Clients & Profits classroom video training session.


Running time: 4:07
Comments (0)
Sort by: Most Recent |
Oldest