Free help: USER GUIDE

| | | |
| --- | --- | --- |
| |   | Clients & Profits X Online User Guide |

Job reports can be printed for all jobs or jobs for just one client, project, or AE/Team. The lists can also be printed for a range of status codes and dates
You can easily see all the jobs currently in-progress, or all the jobs opened for a specific client this year. Account executives can print a list of their own job tickets, seeing the job's essential specifications. Production managers can get a list of all the jobs currently in-progress.

Reports can be printed for many jobs selected by a production or billing status range and a date range.

Job reports can be printed to either the printer or screen. By using Print Destinations under the File menu, you can export to a spreadsheet-compatible text file, print in PDF or HTML format or even e-mail your job report.
Learn more about printing job reports in this Clients & Profits classroom video training session.


Running time: 6:15
To print job reports

1 From the Job Ticket window, click the print reports button or choose File > Print > Print Reports.

The Print Job Reports window opens, prompting you to select one of various types of job reports: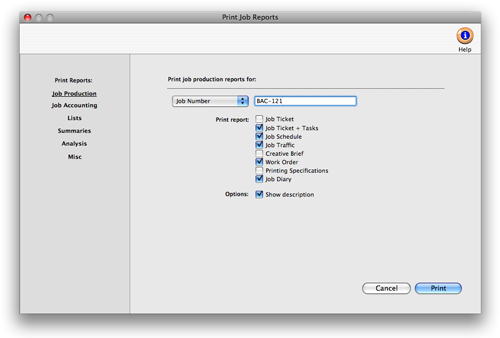 Job Production Everything someone needs to know about a job's production can be printed here, including production specifications, schedule and traffic details.

Job Accounting Job accounting reports help keep you well informed about the most important parts of your business: jobs, costs, billings, and profits.

Lists Job list reports give you an overview of your jobs. The Job Lists can be printed for all jobs or jobs for just one client, project, or AE/Team. The lists can also be printed for a range of status codes and dates.

Summaries Job Summary reports give you an overview of each job. The reports provide a way to evaluate the progress of jobs. The reports can be sorted by project code, job type, client, or AE/team.

AnalysisJob Analysis reports compare estimates to actual billings and budgets to actual costs. Potential problems can be spotted before they become real problems.

Misc Miscellaneous job reports are reports that aren't used for production, accounting, or analysis. Instead, these reports have special purposes and are used infrequently. They are printed like other job reports.

Comments (2)
Sort by: Most Recent |
Oldest
how do i print an accounts payable proof list report?
Hi Arnetta
That's easy. From the Accounts Payable window, choose File > Proof/Post, then select the "Print Proof List First" option and click OK.