Free help: USER GUIDE

| | | |
| --- | --- | --- |
| |   | Clients & Profits X Online User Guide |

By carefully and thoughtfully assigning access privileges, you can provide users access to the things they need to see -- and keep them from seeing and working on things they shouldn't

To change a user's Costs access privileges

1 Choose Setup > Users, Access & Passwords.

2 Choose a staff member from the Users list on the left.

A user's general, menu, job, cost, and accounting access privileges are edited in different windows by clicking one of the Access Privileges tabs.

3 Click on the Costs tab.

The Costs Access window opens, displaying the user's current access settings.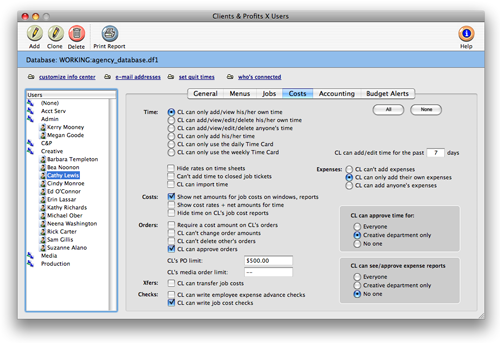 4 Make your changes, then close the Clients & Profits Users window. Any changes you make will take effect immediately.

Other access privileges can be saved by clicking on a different Access Privileges tab.
Comments (0)
Sort by: Most Recent |
Oldest