Free help: USER GUIDE

| | | |
| --- | --- | --- |
| |   | Clients & Profits X Online User Guide |

Groups are used to subtotal tasks on estimates, invoices, and job summaries

They help arrange job tasks more clearly and logically for your clients. Groups can be based on the kind of work you're doing (creative, account service, production, expenses) or how you're doing the work (phase 1, phase 2, phase 3).

The group table is completely customizable; you can have as few or as many groups as you need. New groups can be added anytime. Each task in the Task Table can belong to one group, such as creative or production. When a task is added to a job ticket, the group is copied to the job task. So you can set up your tasks and groups in advance as a default, so that tasks are subtotaled consistently from job to job.

You can always change the group on the job task, for flexibility. Changing the group on one job task doesn't affect the Task Table or the same task on other jobs.

Every group has a name and a number. The group number is added to the tasks, but the client doesn't see it. Instead, clients see only the group name. Groups are sorted numerically on estimates and invoices.

To see the group list

Unlike the client lookup list, the group list doesn't open automatically. Since groups aren't required, the system doesn't assume you want to always use a group. The groups Lookup List window shows your groups anywhere, anytime.

1 Choose Setup > Groups.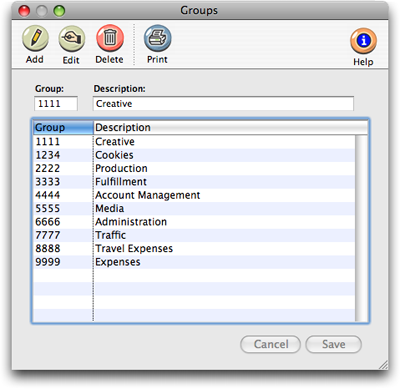 Customizable groups. Dozens of different groups can be created to categorize job tasks on estimates and invoices.
You can sort groups by name or number by clicking on one of the column headings. To change the sort order, click on the Sort button. To select a group for a task, double-click on it.

To add a new group

1 Click the add button, or choose Edit > Add New Group.

2 Enter the new group's number and name.

You can have up to 9999 groups, but ten or so is more likely. The group number can be any number up to 9999. It's recommended that your group numbers start with 1000 to distinguish them from status codes.

The group name appears on printed estimates, invoices, and job summaries. It should be something you wish the clients to read (so nothing proprietary or potentially embarrassing). The group name can't be changed on estimates or invoices, so what you enter here is what will appear later.

3 Click Save.

To edit a group

1 Click once on a group to select it.

2 Click the edit button.

3 Make your changes, then click Save.

If you change a group number, remember to change it on the tasks for open jobs as well. Otherwise, your clients will see a subtotal without a description (because the task's group no longer has a group name).

Double-clicking on a group is a shortcut for selecting and editing a group name and number.
To delete a group
1
Click once on a group to select it.
2
Click the
delete
button.
Once deleted, the group number can be used again later. Deleting a group doesn't update job tasks; they'll still have the old, deleted group number.
To print a group list
1
Choose Setup > Groups from the Setup menu.
2
Choose File > Print Group List.
A group list can also be printed from the group Lookup List. From the lookup list window, click the Print button.
To look up a group
1
Choose Lookup > Groups.
The Groups lookup list can be sorted by clicking on any column heading. Double-clicking on a group name copies its number onto whatever window you're using.
Why use groups? Using groups is strictly an aesthetic decision, since they don't affect the job's totals or the general ledger. But groups are especially useful when you've got a job with many tasks. By breaking up the job's tasks into groups, your client sees the amounts (estimates and billings) the way you want them to. For example, a job with these tasks appear without groups like this:

Artwork
Copywriting
Design
Printing
Layout
Stats/Veloxes
Revisions

Now, using groups, the estimate and invoice can look like this:

Artwork
Copywriting
Design
Creative subtotal

Printing
Layout
Stats/Veloxes
Revisions
Production subtotal

Since groups can vary from job to job, you can use different kinds of groups for different types of jobs.
Comments (0)
Sort by: Most Recent |
Oldest