Free help: USER GUIDE

| | | |
| --- | --- | --- |
| |   | Clients & Profits X Online User Guide |

Status codes group, sort, and manage jobs on windows, job lists, traffic reports, cost summaries, and billing worksheets

The status code is the single most important tool you have for managing jobs. Status codes are the basis for the daily and weekly job lists and traffic reports. Jobs are categorized by status, so you'll always know how many jobs are pending client approval, in production, or awaiting final billing. Every job has a production status and a billing status.

From the moment a job is opened, it has a status code. As the job progresses, its status will change. This enables anyone who cares about jobs -- account executives, coordinators, production managers, and more -- to see their exact status. Any user can look up a job's status, and maybe even change it, from their own computer. Job tasks can also include a status code.

Status codes are based on numbers, not letters or words. Every status code has a number and a description. The number is used for sorting jobs (smaller numbers sort first) on job reports. Every status code has a pop-up alert. This customizable alert warns users (and sometimes stops them; it's up to you) when the job is being used -- and shouldn't be.

Default status codes for new, closed, billed, paid, and re-opened can be set as preferences. These status codes will be applied automatically whenever a new job is added, billed, paid, closed, or re-opened. To set these default status codes, choose Setup > Preferences > Status Codes.

Which status codes should you use? For more information on choosing status codes, see the Clients & Profits X web site.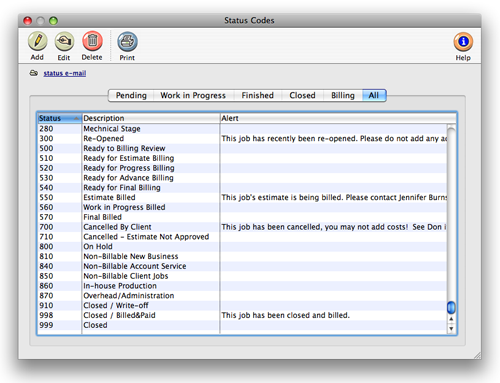 Production status vs. billing status
Every job can contain both a production status and a billing status. They usually work in parallel, and both share the same status table.
There are no limitations to how you can manage your production and billing status codes. One is not better or worse than the other. This flexibility lets the production department and the accounting department track the same jobs differently -- without interfering with each other. Accounting users can print their own job lists, billing summaries, and more by billing status; meanwhile, production users can print their own reports sorted as they like.
Job tasks can also be tracked and managed with status codes. A task's status is generally used for production and traffic, although there's no limit to how you use them. The task status can be updated by double-clicking on a task in the Job Tickets window, then entering a status code.
Learn how to add and edit production and billing status codes in this Clients & Profits classroom video training session.


Running time: 5:49


Status alerts and automatic e-mail

Status alerts are an easy way to keep users from working on the wrong jobs. Every status could have its own alerts, which are customizable. However, usually only new and unapproved jobs and closed jobs have warnings (since these kinds of jobs should not be used).
Preview the status alert. Status alerts can be previewed by clicking the Preview button in the Add/Edit Status Code window.
If a user tries to work on a job that has a status alert, they'll see a Status Alert (see below) box. The graphic and warning are user-defined. Each status has its own special warning message and graphic. Status alerts can be short-term, as the need arises, since you can change the alert's warning message anytime. A status alert can also be set to apply to either production status, billing status, or both statuses.

In addition, selected staff members can be notified automatically whenever a specific status code is chosen for a job ticket. Each status has its own e-mail settings, including the person to notify and the message to send. When a job's status is changed to one that has e-mail, a message will be sent instantly -- even if the user isn't using Clients & Profits X. You can even pre-program the status code to send copies of the e-mail to a client, production manager, account executive -- anyone with an e-mail account.
Comments (0)
Sort by: Most Recent |
Oldest