Free help: USER GUIDE

| | | |
| --- | --- | --- |
| |   | Clients & Profits X Online User Guide |

The update user e-mail addresses window lets you easily update the department and e-mail address settings for all staff members at one time
Every staffer must have an e-mail address (e.g., john@agency.com). For security reasons, C&P e-mail is generally sent only to staff members and not to people outside the shop. This prevents confidential information from being sent to clients, vendors, and possibly competitors. However, "cc's" (i.e., carbon copies) and "bcc's" (i.e., blind carbon copies) have no such limitation. This means users who manually send e-mail from Clients & Profits X can potentially send it to anyone.

To update user e-mail addresses

1 Choose Setup > Users, Access & Passwords to open the Clients & Profits X Users window.

2 Click on the e-mail addresses link.

The Update User E-Mail Addresses window opens, displaying all staffers in your shop, including initials, name, department, and e-mail address.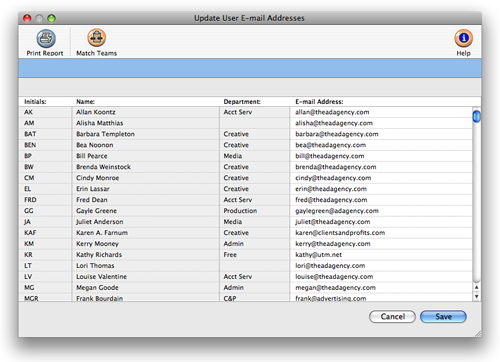 3 Make any necessary changes in the department or e-mail address column. Only department or e-mail address settings can be changed.

Clicking the Match Teams button will compare the team settings for each staff member with their C&P User account. Once clicked, Clients & Profits will copy each staff member's team and department settings to their user records.

4 Click Save.
Comments (0)
Sort by: Most Recent |
Oldest