Free help: USER GUIDE

| | | |
| --- | --- | --- |
| |   | Clients & Profits X Online User Guide |

Work in progress reports are based on jobs and tasks -- and not general ledger journal entries.
Unlike older agency accounting systems, the general ledger does not automatically track your unbilled costs. This is done for two reasons: (1) Clients & Profits X can track costs and billing without needing the General Ledger, which other systems can't; and (2) only actual costs and billings affect the general ledger anyway.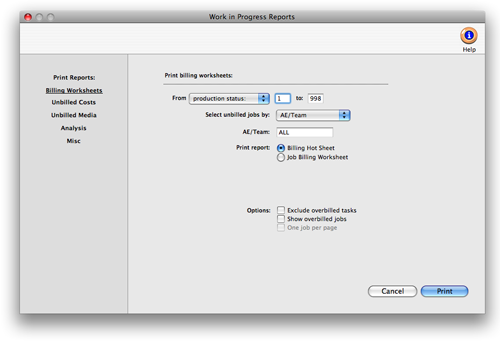 Here's how it works: When a vendor invoice or check is added, every line item gets a debit account (typically a job cost or expense). During posting, the line item amount debits the general ledger -- increasing the cost or expense account's balance. The entry is counted as a cost against income immediately; it is not counted as an asset. When the job is billed, an income account is credited and Accounts Receivable is debited -- that's all. Billing does not affect your cost or expense accounts.

Here's why: The system assumes that you'll bill costs in the same period that they're entered. It's simpler, since agencies can bill costs more quickly now with Clients & Profits X. This eliminates the need to initially post costs to WIP, then reverse the costs that were later billed. So instead of booking the month's costs as they're added, you only need to make a month-end entry for the value of unbilled costs. And you'll get this amount from the work in progress reports.

This method of cost accounting only applies to payables and checks. Purchase orders, insertion order, time sheets, out-of-pocket expenses, cost transfers, and job change orders don't post journal entries into the general ledger Work in progress reports summarize unbilled costs. These reports are the best way to see what you've spent on jobs so far, even if they've been billed before. Work in progress reports can show what's to be billed by client, making the month's billing easier. Other reports help you account for your change orders.

The various work in progress reports show jobs, tasks, and costs in different ways, so have different purposes. The Billing Hot Sheet report is a great pre-billing report, since it lists your unbilled jobs by client. It summarizes the unbilled totals by job, so it is a very compact report; however, it doesn't show much detail.

WIP reports can show jobs, tasks, and costs for one client, AE, project, or profit center by using the select by pop-up menu. They can show unbilled costs by production status or billing status, letting you see only jobs marked as ready to bill, for example. By using billing status, accounting managers can print their own reports.

Change orders aren't costs, so don't appear on the work in progress reports. Since they may influence a month's billing, change order reports and forms can be printed from the Work in Progress window. The Change Order Report lists change orders for all jobs for a range of dates. The option change orders prints a list of all change orders for a time period.



Tasks without unbilled costs aren't included on work in progress reports.

Billing worksheet report options include:



Include overbilled tasks. Only unbilled tasks appear on WIP reports. Over-billed tasks (which may have been billed by estimates) aren't included. Why exclude overbilled tasks? These amounts will decrease the unbilled total for the job, and you may not bill enough to cover the job's actual costs. Since the job summary and job progress reports show all tasks, you should use this option if you compare them with work in progress reports.



Show overbilled jobs. This option looks at the unbilled total of the job, rather than the individual tasks. If the unbilled total on the job is a negative amount (i.e., the job is overbilled), then the job will not appear on the report unless this option is selected.

To print work in progress reports

1 Choose Work in Progress from the Snapshot menu.

2 Select the kind of report (i.e., Billing Worksheets, Unbilled Costs, Unbilled Media, etc.).

3 Make your report selection.

4 Click print


Work In Progress Reports

Billing Worksheets

The Billing Hot Sheet shows unbilled jobs by client -- including each job's estimate (plus change orders), billed, and remaining unbilled amounts. A checklist of the billing workflow steps is listed for each job.

The Job Billing Worksheet shows unbilled jobs and their tasks -- including each task's budget, costs, commitments, billings-to-date, and a space to enter the amount to bill now. Every job is printed on its own page, making the report easy to distribute to AEs.

Unbilled Costs

The Unbilled costs by Job report can be selected by cost status. This option lets you see unbilled costs that are on-hold, for example, or canceled. All other costs will be excluded from the report.

Unbilled Costs by Task

The Unbilled Costs by Task report lists unbilled vendor purchases, time entries, expenses, checks, and transfers by task. Use this to easily see total unbilled printing, layout, etc. at month-end. To see unbilled costs for a time period, choose Job Costs from the Snapshots menu.

The Partially-Billed Costs report lists any cost with a status of Partial. The costs are sorted by client, then job.

The Costs On-Hold report lists any cost with a status of On-Hold.

Unbilled Media

The Unbilled Media (all kinds) report lists all insertion and broadcast orders that have not been billed to the client. The orders are grouped by client and sorted by order number.

Unbilled Broadcast Orders

The Unbilled Broadcast Orders lists all broadcast order not yet billed to the client. Each broadcast order is listed with its station, flight dates, number of spots, and net and gross amounts. A separate page is printed for each client's orders.

Unbilled Insertion Orders

The Unbilled Insertion Orders lists all insertion orders not yet billed to the client. Each insertion order is listed with its publication, issue date, ad size, and gross amount. A separate page is printed for each client's orders.

Analysis

The Write-offs report analyzes costs that have been written off for some time period.

The Markdowns report shows costs that have been billed for less than their gross amounts.

Overbilled Tasks

The Overbilled Tasks lists job tasks that have been billed for more than their actual costs.

The Unbillable Costs report lists unbillable costs by job or task.

Miscellaneous

The G/L Accrual summarizes unbilled job costs by debit G/L# for making manual WIP entries.

The Change Orders report lists change orders added for any time period.
Comments (0)
Sort by: Most Recent |
Oldest