Free help: USER GUIDE

| | | |
| --- | --- | --- |
| |   | Clients & Profits X Online User Guide |

The verify/recover utility recalculates incorrect totals caused by system crashes, disk failures, network interruptions, and other various hardware problems that can miscalculate totals in your database.
Unlike Data Utilities, verify/recover doesn't reorganize or repair damaged data. Instead, verify/recover simply verifies that your account balances and job totals add up -- if not, Clients & Profits recovers the totals. In other words, it recalculates totals based on the underlying record detail that supports those totals.


Because verify/recover is not altering the structure of your database, there is no need to make a backup and get everyone out of the database when running this utility. In fact, if the server or workstation go down during this procedure, when they are back up, just run the utility again. This can be done because it rebuilds the totals from scratch each time using the underlying record detail which is not altered by a system crash.

However, users should not add, edit, or post information into the area that is being re-totaled, otherwise there could be incorrect totals when it is done. So, it is advised that when a large verify/recover is done (e.g. ALL G/L accounts, ALL A/P or A/R account balances, Job/Costs Billings for all status codes) that your C&P users are informed so to avoid adding, editing, posting records into this area during the procedure. If they do, then just run the procedure again to correct the totals.

Ordinarily, you should never need to verify/recover anything. Since Clients & Profits X updates jobs, clients, G/L, and other account totals as records are posted, your totals should always be accurate. Account totals can become inaccurate if posting is canceled, crashes, or otherwise stops. The verify/recover procedures repair these inaccuracies.

The verify/recover utilities can be very time consuming in some cases, and can slow down other users as they work. So it's best to run these utilities, except for the verify one job utility, when no one is using Clients & Profits X Pro.

Don't overuse verify/recover. If your account totals are constantly inaccurate, it's a sign of more serious data corruption. Call Working Computer first if you're having problems.
You can verify/recover accounts balances for one client, vendor, or G/L account. When you know precisely which account is incorrect, enter the account number (or client or vendor code). Only the records for the specific client, vendor, or G/L account will be verified -- which can save lots of time.
The
G/L account balances
option ensures that an account's balance equals its debit and credit journal entries. First, the balances are cleared for the chart of accounts. Then, these balances are recalculated from posted journal entries. This utility takes longer at the end of your fiscal year, since there are more entries.
The
Job costs/billings
option ensures that the totals on job summaries equal each job's costs, POs, time, and billings. First, your job totals are cleared. Then, each job's totals are recalculated from the job's costs, purchase orders, then finally its billings. Be careful when running this for all jobs because in a large database it can take a few hours to complete.
The
Job costs/billing by status
does the same thing as the Job costs/billings, but instead of doing all jobs, you can select a range of production or billing status codes to limit how many jobs have this done, such as only open jobs or jobs ready to bill. It is often unnecessary to verify/recover all closed jobs in a database and will only take unnecessary additional time.
The
A/P account balances
option ensures that your vendor account balances equal their A/P invoices and vendor payments. First, your vendor balances are cleared. Next, the total purchases are calculated from posted payables. Finally, vendor payments are calculated from posted checks. The difference becomes the vendor's balance due.
The
A/R account balances
option ensures that your client account balances equal their A/R invoices and client payments. First, your client balances are cleared. Next, the total billings are calculated from posted receivables. Finally, payments are calculated from posted client checks. The difference becomes the client's balance due.
When performing the verify/recover of the A/P and A/R account balances, take special care to make sure that checks or client payments have not been purged from the database, without their respective invoices being purged at the same time, otherwise old invoice balances will return to the aging (i.e. since there are no payments the invoice balances will return).

The Purchase order balances verifies that the balances on purchase orders are accurate. First, the purchase order balances are cleared. Then, costs from posted A/P invoices are calculated and applied to each PO line item. The difference becomes the "open" or unbilled balance on the purchase order.

The One job ticket option ensures that the job's totals are accurate. First, the job's totals are cleared. Next, the job's costs are accumulated by purchases, time sheets, and expenses and added up by job task. Then, the job's billings are totaled using posted A/R invoices for each job task. Finally, the job's tasks are reconnected to the job ticket.

The Job's cost billing status option will reapply billing amounts to job's costs; use this function to apply billing amounts to jobs that were billed in advance, or when the cost's billing status is otherwise not saved correctly.

To use the Verify/Recover utility

1 Choose Setup > Utilities > Verify/Recover.

The Verify/Recover window opens.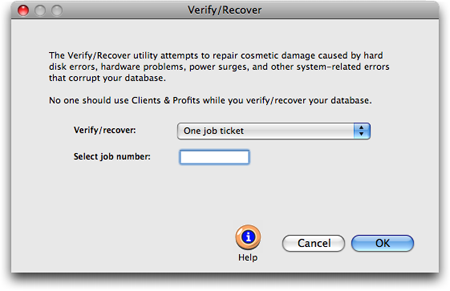 2 Select on a verify/recover option from the pop-up menu.

3 Enter a job number, client number, etc. if prompted.

This option lets you verify/recover one job, client, vendor, etc. instead of all jobs, clients, vendors, etc. If you're certain only one specific client, etc. is inaccurate, then verifying only the one account will be much faster.

4 Click OK.
Comments (0)
Sort by: Most Recent |
Oldest