Free help: USER GUIDE

| | | |
| --- | --- | --- |
| |   | Clients & Profits X Online User Guide |

The Client Account Information window contains details about an account used for sales, account service, and billing
.
The window contains different kinds of information about a client, such as budgets, notes and billing information. The basic name, address, and note is edited in the Clients window.

To edit a client

1 Choose My > My Clients.

2 From the Clients window, find the client account you wish to change.

3 Click the edit button (or choose Edit > Edit Client > Client).

The Client Account Information window opens.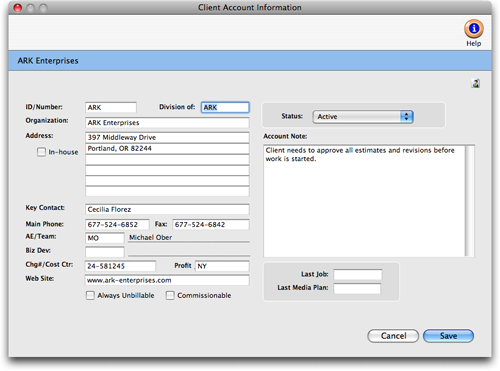 If a client has a balance (or any other activity), its account number can't be changed. However, the name, address, and contacts can be changed anytime, which only affects new invoices. (The client number can be changed using the Re-number utility, which changes all of the client's jobs, costs, invoices, and payments.)

For an explanation of the various fields see the add client account user guide page.

4 Make your changes then click OK.

The Account Note field is not edited from this window. To edit the Account Note, from the My Clients window, click the notes link at the bottom of the window.

Learn more:
Clients
Client Diary
Client Statistics

Comments (0)
Sort by: Most Recent |
Oldest