Free help: USER GUIDE

| | | |
| --- | --- | --- |
| |   | Clients & Profits X Online User Guide |

Everything you buy from a vendor on account, whether for a job or for the shop, is an accounts payable entry
These purchases, which are usually recorded from vendor invoices, are added into Accounts Payable. Since Accounts Payable is integrated with the General Ledger, there's no double-entry, and no need to enter information twice. Information entered on invoices becomes part of the G/L. The A/P file tracks everything about your purchases:
What you've bought




From whom it was purchased




How much it cost




When the invoice should be paid




The purchase's markup and gross amount




When the invoice was paid
Vendor invoices should be added daily, to keep your accounting files and job cost reports timely and accurate. Invoices with job costs can be billable or unbillable, or any combination. They can contain one or more jobs and tasks for flexible job costing. Invoices for overhead (which are unbillable by nature) can debit any number of G/L accounts.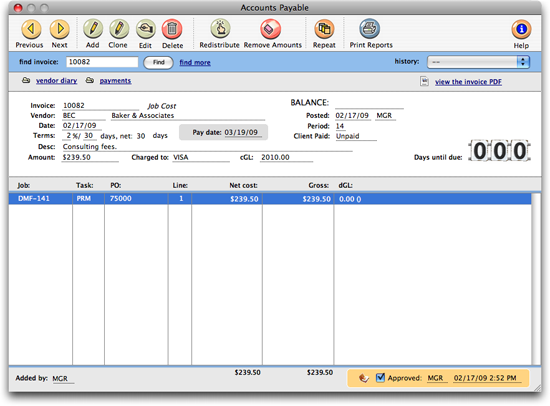 To add a job cost invoice

Adding the invoices is a relatively easy process, since you'll be entering information right from the invoice. An invoice can have one or many invoice line items. Each line item is a separate job cost, and contains a job number, task, net amount, and gross amount. Invoice line items can also account for overhead expenses, such as office supplies, but don't get a job number. Click here for step-by-step instructions.

Cloning A/P Invoices

Cloning duplicates an existing accounts payable invoice creating a new invoice. The cloned invoice has all of the descriptions, instructions, options, and line items of the original. Cloning is especially useful when you're purchasing the same kind of products or services routinely. Since cloning copies an invoice completely, you'll spend much less time keying in the details.

Any job cost or overhead invoice can be cloned. The cloned invoice has the same vendor, but it can be changed. In fact, anything about the cloned invoice can be changed. The cloned invoice gets its own unique invoice number.

Cloning an accounts payable invoice is simple: First, find the invoice you wish to copy. Choose Clone from the Edit menu, enter any changes, then save the new invoice. The original invoice's line items will be copied, too, but they can be changed. The original accounts payable invoice is unaffected by cloning. An invoice can be cloned any number of times.

The Clone window closely resembles the Add Job Cost Invoice or Add Overhead Invoice window (depending on which type of invoice you are cloning). Information from the original invoice, including the vendor, description, and amounts is copied automatically from the original invoice. Changing the new invoice doesn't affect the original invoice.

To edit a vendor invoice

Vendor invoices in Accounts Payable can be edited once they've been saved. Invoices are easily edited before they are posted, since they haven't updated the vendor, job, or General Ledger yet. But once an invoice is posted, changes are limited to descriptions and notes, unless you unpost it.

To distribute an invoice to many jobs and tasks

Vendor invoices can contain many line items. Each line item is a separate cost entry on job cost reports, and creates a debit journal entry in the General Ledger. Every line item can have a job number, task, net amount, billable amount, and a debit G/L account number. Click here for step-by-step instructions.

To print a selected invoice

The A/P window now has a "print window" command that allows you to print a hard-copy of any selected invoice. Choose File > Print Window to print your selected invoice.

Printing a list of vendor invoices

When invoices are added, they are unposted. Unposted invoices can be easily changed, letting you edit cost amounts before the account balances are updated. Posting is a methodical process that updates vendors, jobs and tasks, and the General Ledger. The process is the same whether you're posting one invoice or many invoices. Learn more about proofing and posting A/P invoices here.

To remove an amount from an invoice

1 From the Accounts Payable window, find an invoice.

2 Select the line item you wish to remove by clicking on it once to highlight it.

3 Click the remove amount button.

To view a vendor's diary

The vendor diary does not keep an automatic log of every vendor activity. That would create an immense number of entries. Instead, the vendor diary is used like a daily log. Anyone who works with one vendor account can make notes about phone calls, meetings, etc. Click here for step-by-step instructions.

To view an invoice's payments

The dates on which Accounts Payable invoices are paid are updated automatically from posted checks. You can see the check number and check date on the invoice by using the View Payments command. Click here for step-by-step instructions.

The Client Paid field

The Client Paid field on an invoice helps you pay only the A/P invoices that have been billed and paid by the client. This field also prints as a column on the Vendor Account Aging to view many invoices at once. The Client Paid field is updated with the date the client payment was added against the A/R invoice on which the A/P invoice was billed. In order for the Client Paid field to be properly updated, the accounts payable invoice must be posted first, then the client is billed with an accounts receivable invoice that bills the costs on the invoice, next the accounts receivable invoice that bills the invoice's costs needs to be paid via a client payment. This exact order must be followed. You can not verify/recover A/P account balances to update the Client Paid field if this order was not followed.

Saving A/P Invoice PDFs

Invoice PDFs can be saved for vendor invoices when using a MySQL or SQL Server database. This enhancement lets you save scanned copies of the vendor's printed invoice when it is added into Accounts Payable. To save the PDF, click the "upload invoice PDF" button then select the PDF from the prompt. The PDF will be saved inside the C&P database.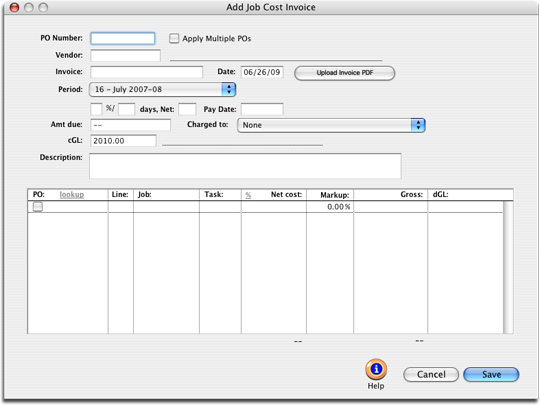 When browsing vendor invoices in Accounts Payable, you'll see a "view the invoice PDF" link and icon if the invoice has a saved PDF. Clicking on this link will extract the PDF from the database and open it in either Preview (on Mac OS X) or Acrobat Reader (on Windows).
Comments (0)
Sort by: Most Recent |
Oldest