Free help: USER GUIDE

| | | |
| --- | --- | --- |
| |   | Clients & Profits X Online User Guide |

Checks can be edited or deleted until they're posted.
Because the check's distribution must equal its amount, what you can actually edit on a check is limited -- usually only descriptions and memos. To change the payee, amounts, jobs and tasks, paid invoices, or G/L numbers you'll need to delete the check then reenter it. In some cases, several convenient check tools can be used to renumber checks, void checks, and add vendor credits.

If a check jams when printing, you should renumber the check then reprint it.
It's important to note that once a check has been posted, it cannot be edited. Checkboxes such as "Include in year end 1099 report" will be greyed out and cannot be changed. In order to make changes to checks that have been posted, they need to be unposted first. To do this, choose File > Proof/Post and unpost the check. Make your changes, click save, then re-post the check.
To edit a check
1
Find the check you wish to edit in the Checkbook window.
2
Click the
edit
button (or choose Edit > Edit Check).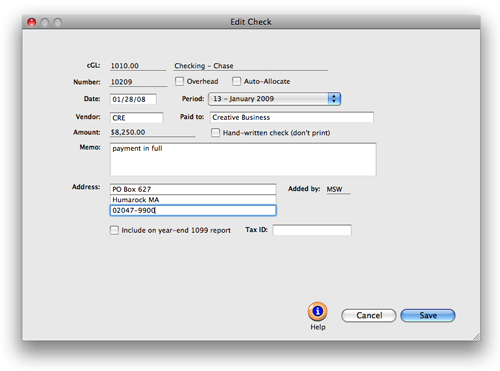 To keep the check from becoming unbalanced, only the check date, payee address, and memo can be edited.
3
Make your changes, then click Save.
Learn more:
The Checkbook
Auto-Pay Payables
Printing Checks
Voiding a Check
Comments (0)
Sort by: Most Recent |
Oldest