Free help: USER GUIDE

| | | |
| --- | --- | --- |
| |   | Clients & Profits X Online User Guide |

Checks can be printed to any laser or inkjet printer.
Checks can be printed to any laser or inkjet printer using preprinted checks. Printing checks on laser printers is faster, cleaner, and less troublesome than other methods. Laser printers are very easy to load with check forms, and rarely jam, unlike dot-matrix printers. Ink jet printers have the same advantages as laser printers, but can be slower. The only disadvantage to printing checks on laser or ink jet printers is that they can't print copies. The only way to get copies of printed checks is to print a separate set of checks on plain paper after they are printed on check stock.

If you need copies of checks, try this: instead of reprinting checks on plain paper, consider making photocopies of the actual signed checks. Not only will you have a hard-copy of the check to attach to invoices, but you'll have a copy of the signature, too.

Your check stock should be pre-printed with a check number. When a check is printed, the check number will be printed from Clients & Profits beneath the pre-printed number. For better accountability, these numbers should match. This means you should print checks in the same order as the pre-printed checks. If a check jams, you should renumber the check in the Checkbook then re-print it using the next check number.
For more information, see the Checkbook FAQ.

To print checks

1 Click the print checks button, or choose File > Print Checks.

The print checks window opens.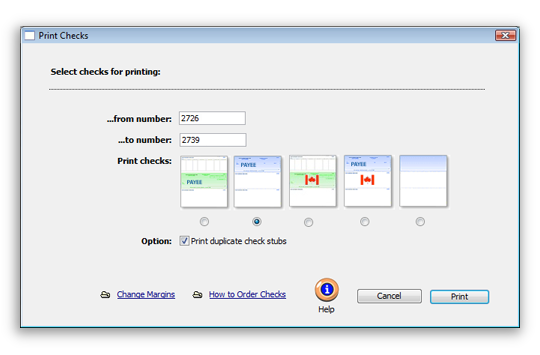 2 Enter the range of check numbers to be printed.

3 Click on a check form to select its style.

4 Click Print.

You can change the position of the printed text on any check by clicking the Change Margins link. The default settings can be changed for top, bottom, left, and right margins. Simply make your required margin settings, then close the window.

Learn more:
Checkbook
Print 1099 Report/Forms
Checkbook FAQs
Ordering Checks from Deluxe
Posting Checks
Comments (0)
Sort by: Most Recent |
Oldest