Free help: USER GUIDE

| | | |
| --- | --- | --- |
| |   | Clients & Profits X Online User Guide |



An insertion order can contain dozens of different media buys for one vendor.

Each media buy can specify a different ad to run, another set of run dates, or a special space buy for a certain ad. Each media buy will appear as a separate line on the printed insertion order, as well as the client's A/R invoice. When the vendor's media invoice is eventually entered, you'll also reconcile A/P and insertion orders line-by-line.

To add additional media buys to an insertion order

1 From the insertion order window, click the add Buys button, or choose Edit > Add Amounts.

The insertion order's add buy window opens.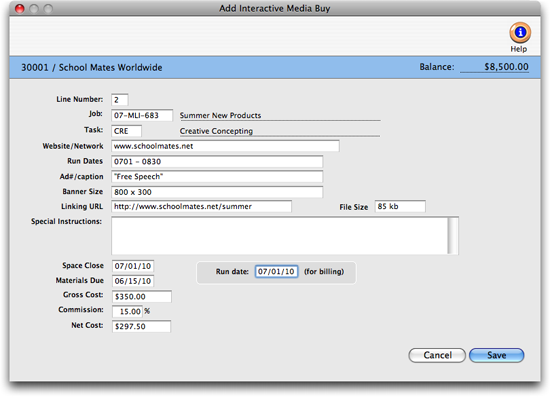 2 Enter the new media buy's details (especially its line number, which is crucial for accurate A/P reconciliation) then click Save.


Learn more:
Adding an insertion order
Insertion orders
Media billing goals
Comments (0)
Sort by: Most Recent |
Oldest