Free help: USER GUIDE

| | | |
| --- | --- | --- |
| |   | Clients & Profits X Online User Guide |

The general access privileges control the basic options available to a Clients & Profits X user.
Passwords are an integral part of Clients & Profits X security system. Make sure each user has a password and periodically change them to help keep the database secure.

Clicking on the General tab displays the selected user's general access privileges: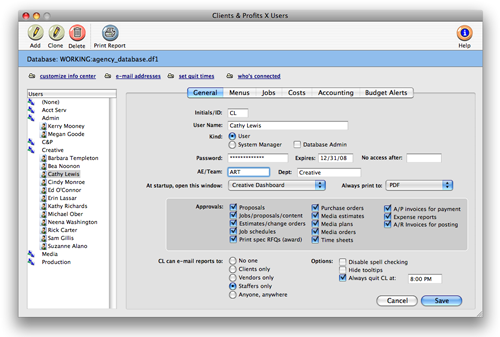 Click on a user name then the General tab to edit the user's general access privileges. A user can be set as a regular Clients & Profits X user or as a system manager. Users can use most typical add, edit, delete, and print operations, while managers can access special functions, such as setting access privileges.

An account can be changed from User to System Manager, and vice versa, as needed. A Quick Check (which looks for obvious data damage) is performed on the database whenever a System Manager introduces himself or herself. As well, a System Manager has access to the Setup > Software Registration, as well as access to the Setup > Users, Access & Passwords menu only (but must also be marked as an Admin to gain access to the window itself - see below).

The Admin option allows access to the Preferences window (Setup > Preferences on Windows, Clients & Profits X > Preferences on a Mac), the Users, Access and Passwords window, and the Database Utilities window to perform database maintenance if you're not using a SQL database. However, menu access to Preferences and all Utilities (including Database Utilities) is controlled via the Menus tab in Users, Access & Passwords by selecting the Preferences and Utilities checkboxes under the Setup section. As well, as noted above, menu access to Users, Access and Passwords is controlled by marking an account as a System Manager. A user must be marked as both a System Manager and Admin to gain access to the Renumber utilities window.

The user's password controls their access to Clients & Profits X. A user can't open the database without entering a correct password. Passwords are defined by system managers, not by users. Users can't change their own passwords. Passwords are especially important in larger shops, where dozens of staffers will use Clients & Profits X. The security system provides two important features: it keeps confidential data private, by restricting access; and, it keeps people from accidently adding, changing, or deleting information they're not supposed to change.

A password can be set to expire by entering an expiration date. If a user's password has expired, he or she can't open the database until a system manager resets the expiration date. Entering a date in the no access after field allows a user (like a temp or a freelancer) to use Clients & Profits X for a limited time.

User accounts can be sorted by AE/Team on reports to manage large groups of users more easily. Each user can also belong to a department by entering a department code.

A number of selected windows, such as the Information Center or the Creative Dashboard, can be opened automatically as a "home" page whenever the user starts Clients & Profits or closes a window.

As a convenience, the always print to option allows a user to always print reports to the printer, the screen, or to PDF automatically. This can be temporarily changed any time by choosing File > Print Destination.

The approval options allow a user to internally approve proposals, estimates and schedules, media plans and orders, time sheets and expense reports, and more. The user can also ok approval requests from other staff members using the Approval Manager, including A/P invoices for payments and A/R invoices for posting. Some options are not available in C&P Classic.

Check the disable spell checking option for a user who doesn't want the spell checking window to open when the Save button is selected. Checking the Hide Tooltips option turns off tool tips whenever a user mouses over a field in C&P, which is only recommended for experienced users of the program. Check the always quit option to force Clients & Profits to shut itself down at a certain time at night. Use this option to prevent a user from keeping Clients & Profits X open at the same time as the scheduled backup.

The e-mail reports option allows a user to send a electronic version of any Clients & Profits X report or form (e.g., estimate or invoice) via e-mail.
Comments (0)
Sort by: Most Recent |
Oldest