Free help: USER GUIDE

| | | |
| --- | --- | --- |
| |   | Clients & Profits X Online User Guide |

Access privileges are the foundation of your database's security system


By carefully and thoughtfully assigning access privileges, you can provide users access to the things they need to see -- and keep them from seeing and working on things they shouldn't.

Every user has his or her unique set of access privileges. This ability lets you tailor the system to a user's special needs for information. For example, you can selectively give a user access to adding, editing, and deleting job tickets -- but prevent them from seeing costs.

You can provide access to specific menu commands, as needed. When a user doesn't have access to a menu command, it appears dimmed and can't be chosen. This prevents a user from working in some place they shouldn't. For example, you can give a user access to Media, to add, change, and print media plans, but not Accounts Payable or the Checkbook.

Access privileges are very flexible, so they can be changed at any time. The changes you make take affect the next time the user enters their initials in the Introduce Yourself window.

Any manager can change a user's access privileges, including their password. Over 30 new user-based access privileges give system managers a greater ability to pick-and-choose just what a user can see and do. These new access privileges are not automatically enabled when you first install Clients & Profits X. Instead, they need to be set individually for each user. To accommodate these expanded access privileges, they are organized into five functional windows: General, Menus, Jobs, Costs, and Accounting.
To change a user's access privileges
1
Choose Setup > Users, Access & Passwords.
The Clients & Profits Users window opens.
2
Click once on a user's name in the Users column.
The User Access Privileges window opens.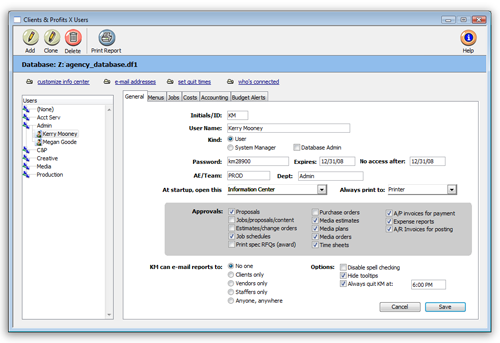 User-based access privileges. Each user can have their own unique access privileges to menu commands, jobs, costs, and accounting. Clicking on a button edits the selected user's access privileges. Access privileges can only be edited by manager-level users and take effect the next the user starts Clients & Profits X.


A user's general, menu, job, cost, and accounting access privileges are edited in different windows by clicking one of the Access Privileges tabs.

See access privileges: General | Menus | Jobs | Costs |



Comments (0)
Sort by: Most Recent |
Oldest