Free help: USER GUIDE

| | | |
| --- | --- | --- |
| |   | Clients & Profits X Online User Guide |

Everything you do for a client is billed by adding an invoice into Accounts Receivable.
Clients can be billed for anything you do -- whether you're billing an estimate, an advance, a retainer, a service charge, or a job's final costs. A/R invoices are seamlessly integrated with jobs and costs, so billing is particularly quick and easy -- and can be mostly automatic.

Every kind of client invoice -- including deposits, retainers, advances, credits, and discounts -- should be added into Accounts Receivable. Invoices have one or more line items, which contain the actual billing amounts. Every task on a job can be billed as a separate line item on an invoice, providing your clients with a clear, detailed billing -- one that looks like their estimate. (Click here for more billing/accounts receivable features.)

To use the Billing/Accounts Receivable window

1 Choose Accounting > Billing/Accounts Receivable.

The Billing/Accounts Receivable window opens, displaying the last added invoice.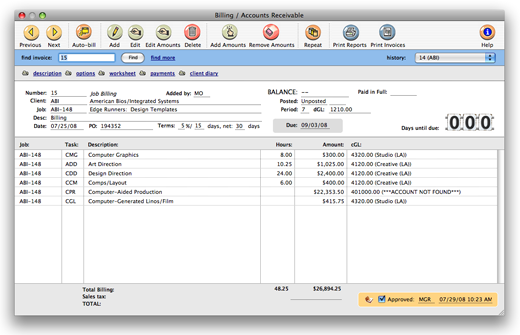 Use the Billing/Accounts Receivable window's toolbar buttons to add, edit, edit amounts, delete, and print invoices. Clicking on a button is the equivalent to choosing a File or Edit menu command.

Click the next or previous buttons to select the next or previously added invoice. You can find an invoice by entering its invoice number then clicking the find button. (To search for invoices by number, sequence, job number, or date click the find more link then follow the prompts.) As you browse from invoice to invoice, Clients & Profits X keeps track of the last 25 invoices you've viewed. You can jump back to a previously-displayed invoice using the history pop-up menu.

For tips on using the Accounts Receivable window, see the Billing FAQ.

To invoice unbilled job tickets

Clients & Profits X provides an innovative feature that can dramatically simplify your billing, called auto-billing. Auto-billing creates invoices automatically for all of your unbilled jobs. It's the same result as if you'd entered an invoice for each of your unbilled jobs. Instead, auto-billing does the work for you. Click here for step-by-step instructions.

To add an invoice

Client billing is based on jobs, tasks, and costs you've posted against them. Job tickets track everything you spend by task, whether it's time, buyouts, or out-of-pocket expenses. Click on a link below for step-by-step instructions:
To edit an invoice

Anything on an unposted invoice can be changed, except the invoice number, before an invoice is posted. Once an invoice is posted, you can only change the description and other basic information.

1 From the Accounts Receivable window, find an invoice.

2 Click the edit button.

3 Make your changes, then click Save.

To delete an invoice

Once an invoice is posted, it can't be deleted -- only adjusted with credit invoices. Or it can be unposted if it hasn't been paid yet.

1 From the Accounts Payable window, find the invoice.

2 Click on the delete button, or choose Edit > Delete.

Once the invoice is deleted, its number can be used again.

To add, edit or delete billing amounts

Billing line items contain the real details about an invoice. Almost everything about an invoice line item can be changed until the invoice is posted. The invoice itself only contains a general description of the billing, while the line items contain the actual tasks and amounts. Click here for step-by-step instructions.

Credit Invoices

Credit Invoices can be made for a client by entering an invoice with negative billing amounts. When a credit invoice is added as a job billing, the credits will reduce the amount billed on the job ticket; if it's added as a miscellaneous billing, the credit will only affect the client balance. When entering a client payment against a credit invoice, in the payment column of the invoice distribution window enter a negative amount against the negative (credit) invoices. Doing this will net out the client payment to match the amount of the client's check and clear both the normal positive invoices and the credit invoices.

Printing Accounts Receivable Reports

A/R Reports summarize invoices, showing what you've billed to clients, jobs, and G/L accounts. A/R reports can be used for reporting sales, tracking billings by client, and auditing your accounting. Click here for step-by-step instructions.

Printing Invoices

Client Invoices can be printed any time after they are posted. Invoices can be printed individually, or in batches for a range of invoice numbers. A batch of invoices can also be printed for the same client and a range of invoice dates; this option lets you print the month's invoices for one client quickly and easily. Click here for step-by-step instructions.

To edit an invoice's description

1 From the Accounts Receivable window, find an invoice then click the description button.

2 Make your changes, then click Save.

To change an invoice's options

1 From the Accounts Receivable window, find an invoice.

2 Click on the Options link.

3 Make your changes, then click Save.
Learn the proper steps required to prepare and paste your agency logo in invoice preferences so it will appear on printed invoices in this online tutorial.


Running time: 5:32
The Billing Worksheet

Although the job's costs don't actually appear on the invoice, they are billed when you add an invoice
This means that you'll always know when vendor invoices, time entries, checks, and expenses were billed to a client, the amount billed, and the client's invoice number. Learn more about the Billing Worksheet here.

The Client Diary/Call Log

The Client Diary/Call Log window lists all of the entries users have made about interacting with the client, whether it is a phone call or just a note (a diary entry) about something that is going on. Learn more about the Client Diary here.
Comments (0)
Sort by: Most Recent |
Oldest